Main content starts here, tab to start navigating
About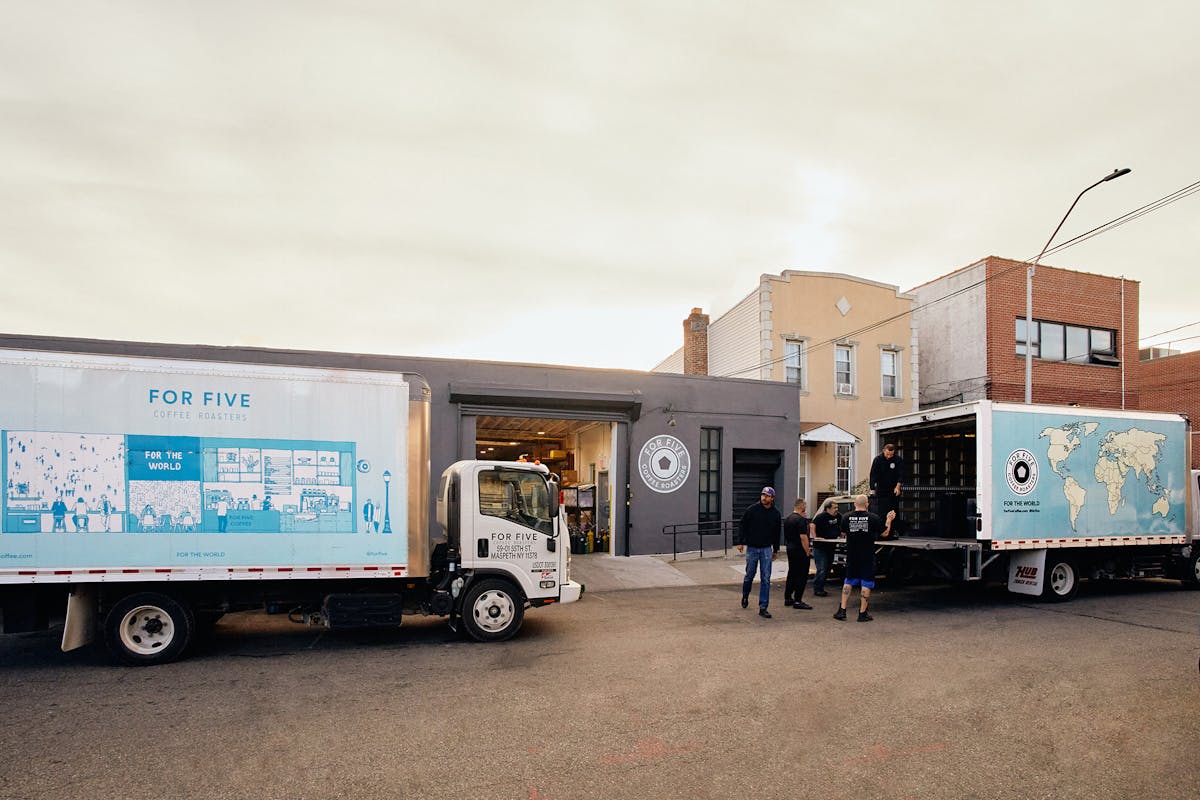 About for Five
Founded in 2010 in Queens, New York, For Five is a micro-roasting facility born from the dreams of two close friends. Committed to bringing the art of specialty coffee to the heart of the city, For Five has grown into a coffee powerhouse. Beyond roasting, our comprehensive offerings include sourcing, cupping, importing, distribution, equipment supply, and technical services, making us the ultimate destination for coffee aficionados. Embracing the vibrant spirit of the city, For Five stands as a testament to New York's love affair with exceptional coffee.
Our Coffee
At For Five Coffee, the journey to exceptional coffee begins with the unassuming green bean, plucked from coffee trees around the globe. Through extensive travels and direct partnerships with small coffee farms known for their top-tier crops, For Five ensures that quality remains at the forefront. This tireless quest for excellence, marked by rigorous tasting and cupping, culminates in every exquisite sip of For Five, a testament to our dedication to the art of fine coffee.
For Five Coffee prides itself on a diverse range of offerings, featuring both Signature Blends and Single Origin Coffees hailing from 30 distinct regions across the globe. What sets For Five apart is our commitment to individualized roasting -- treating each coffee bag as a unique canvas. This artisanal approach caters to a spectrum of tastes, encompassing light, medium, and dark roast profiles. Our discerning bean sourcing takes us to high-altitude equatorial locales, where the combination of ample rainfall, sunlight, and fertile soil yields the highest caliber coffee crops. For Five's dedication to excellence shines through in every cup.
For Five Coffee Roasters sets a high standard for our suppliers, both domestic and international, emphasizing social, legal, and ethical responsibility towards products and the people behind them. With a global network encompassing green coffee, tea, brewing, and manufacturing equipment, we demands a commitment to responsible health, safety, environmental, and ethical business practices from all partners.
In our unwavering dedication to quality, For Five guarantees the purity of green coffees and teas in the United States, complying with the Food Safety Modernization Act and steering clear of GMOs. Many of our sourced products boast certifications from respected bodies like QAI, Fair Trade USA, Fairtrade America (FLO), Rainforest Alliance, and OSHA safety inspections. For Five Coffee Roasters remains resolute in ensuring ethical and responsible sourcing at every step.